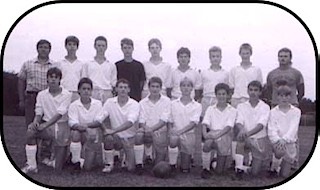 The Waynedale Soccer Team began playing in the Fall of 1989. In that first year the games were played on the playground of the Holmesville Elementary School. The team finished its first season with an undefeated record.
The following year the team moved to Waynedale High School. New goals and nets were acquired from a grant and the games were played in the stadium. The team finished with an 11-3-3 record and won its first Sectional Championship.
In the 1992 season the Golden Bears made their best tournament run. After going scoreless in regulation and overtime play Eric Lingenfelter'spenalty kick gave the Bears the sectional title. Goals by Troy Crilow and Dylan Hanlon gave the GBears a 2-1 win over Akron Hoban that set up the District Finals at Akron St. Vincent St. Mary. Down 1-0 with time running out, a mad scramble in front of the St. V's goal and a Troy Crilow shot stopped on the goal line ended the Bears Run.
In 1997 the Wayne County Athletic League adopted soccer as a league sport and Waynedale opened it's brand new soccer field
In 1998 the Golden Bears became WCAL co-champions with a Dustin Yoder goal with 10 minutes to go in the season. The 1-0 victory over Hillsdale resulted in the Bears 
 In 2002 the Golden Bears won the WCAL championship again led by All Ohio forward David Hradek
.  In 2004 the soccer team reached the District finals when Brian Parrot scored the only goal in a 1-0 sudden death overtime victory over Rittman High School.